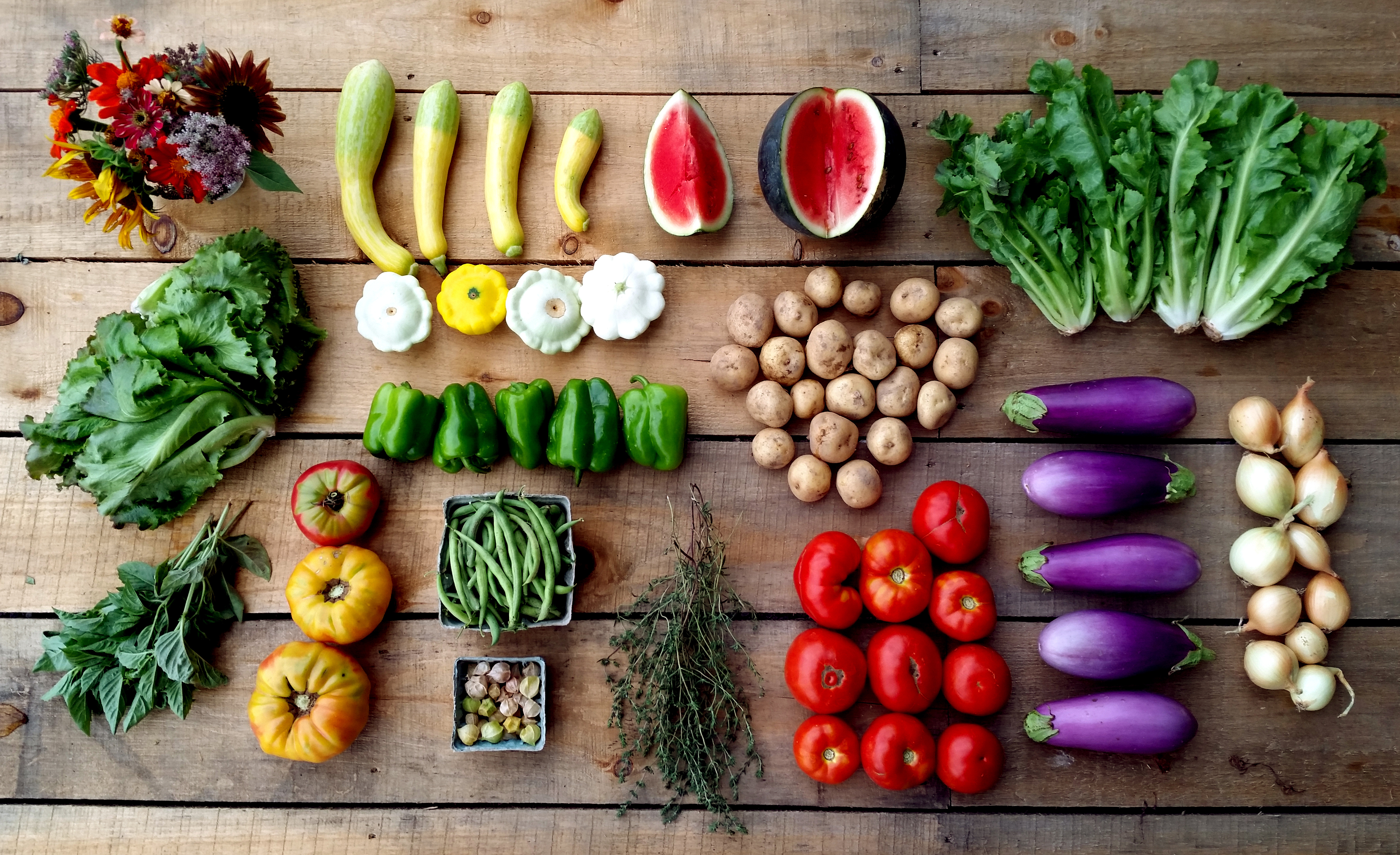 Above: Mud Creek Farm CSA full share by Ruth Blackwell
Dear Friends of Peacework CSA,
We enjoyed a wonderful and bountiful 2020 season in partnership with Mud Creek Farm, and invite you to join us for 2021! Please remember to sign up for shares from Mud Creek with pick-up at Abundance, Thursday evenings, June - November. Their deadline for signing up is April Fools Day, but their limited number of shares may be gone well before that date. There is information specific to Peacework CSA and Abundance pickup on their signup page.

To sign up, go to http://www.mudcreekfarm.com/sign-up/.
Putting the Community in CSA!
The C in CSA stands for community. It's a primary reason why many of us value this model over going to the grocery store for our veggies. Member distribution volunteers have allowed Peacework to provide local, organic produce to our community for 32 years. During distribution shifts, you can get to know your fellow CSA members while contributing to the vitality of the CSA.
There are 2 distribution roles:
Captain: Involves setting up tables, tents, & scales, distributing produce, and breaking down the setup. Best for folks who can commit to 3 or more shifts throughout the season.
Distribution helper: Involves arriving when distribution starts and staying at least until the rush has died down. You can do this 1 time, or as many as you'd like.
We're also looking for people who would be willing to fill in for either role on short notice. Distribution will take place on Thursday evenings, 6-8pm, from June 24 to November 4. Have questions, or want to volunteer? Send us a note at info_at_peaceworkcsa.com

Looking forward to a bountiful 2021,
The Peacework CSA Core