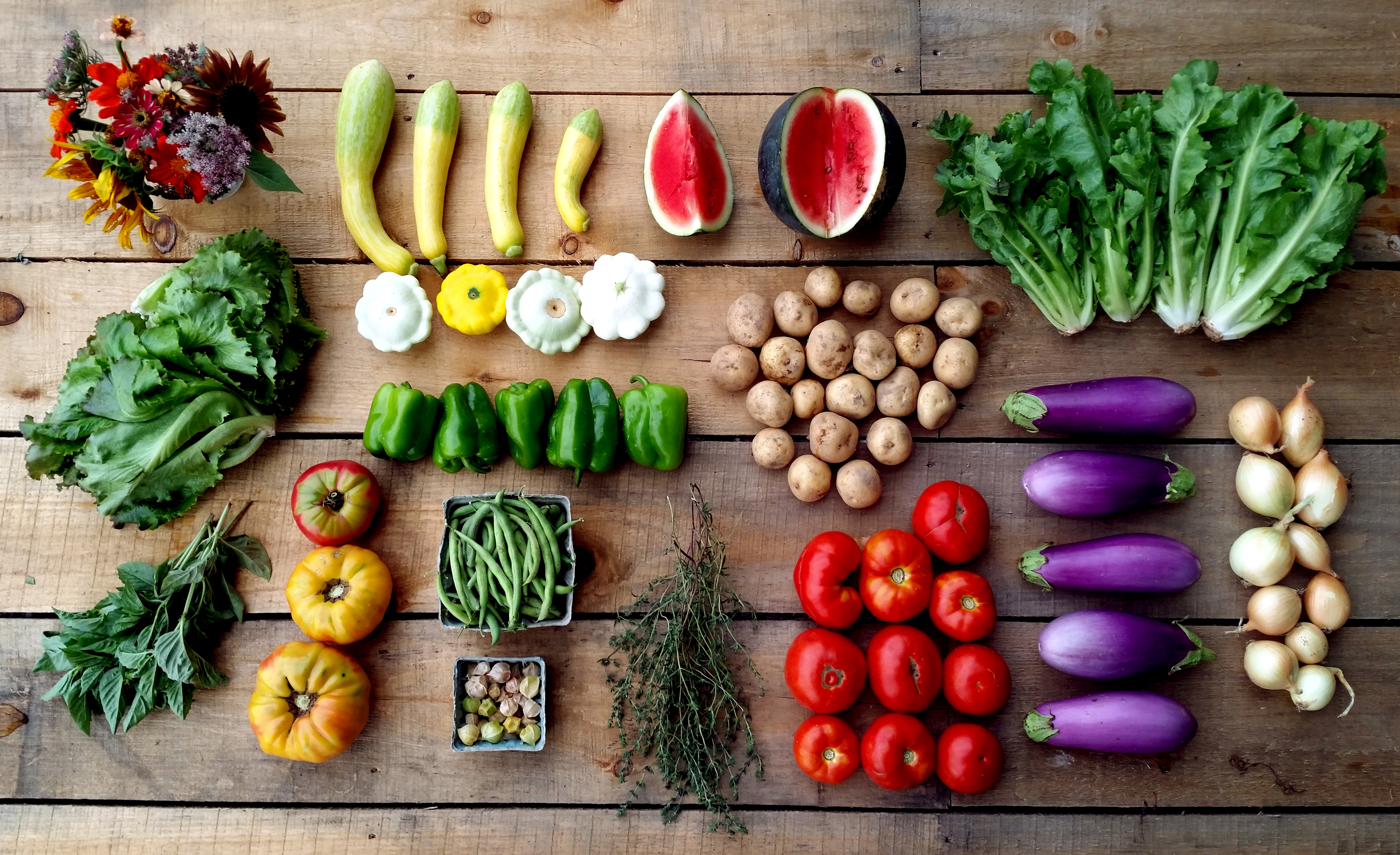 Above: Mud Creek Farm CSA full share by Ruth Blackwell
2022 Peacework CSA shares still available - Fresh from the farm!

Secure your 2022 share. Your early commitment helps Mud Creek pay for seeds and supplies that become the veggies you will enjoy this summer.
Dear Friends of Peacework CSA,
2022 brings with it a sense of renewed hope, and a supply of fresh, healthy vegetables is a great way to start. Now is the time to sign up for shares from Peacework/Mud Creek with pick-up at Abundance, Thursday evenings, June - November. The farm's deadline for signing up is April 1, but the limited number of shares may be gone well before that date as they have in past seasons. There is information specific to Peacework CSA and Abundance pickup on the signup page.

As you compare your CSA options for 2022, consider the U-pick opportunity at the farm (daylight hours, any day of the week) is PART of your share. There is no extra charge for these veggies, but we only ask you pick only for your family and what you will actually eat.
Putting the Community in CSA!
The C in CSA stands for community. It's a primary reason why many of us value this model over going to the grocery store for our veggies. Member distribution volunteers have allowed Peacework to provide local, organic produce to our community for 32 years. During distribution shifts, you can get to know your fellow CSA members while contributing to the vitality of the CSA.
Please consider joining the core group!  There are a small number of essential tasks that keep the CSA running, and enthusiastic volunteers are always welcome. Just let us know if you would like to get more involved!

Distribution helpers, we are always looking for opportunities to make things easier and to help them run more smoothly. We are considering self-scheduling methods for this season, stay tuned for more.

Wishing you health, peace, and good food in 2022,
The Peacework CSA Core

Apart from e-mail, the Peacework CSA Facebook page is our primary method of conveying info to members. Please visit, like, and follow and help spread the word. Our single best method of finding new members is word of mouth, so please let your friends know about the great fresh veggies they can enjoy. We also have brochures and other materials available - if you would like some to share or distribute, just let us know at This email address is being protected from spambots. You need JavaScript enabled to view it.!